This is a subseries under the Prophet of Islam. This series exclusively deals with the pervert XXX rated actions of the prophet. The purpose of this series is to let the reader decide if Allah is really the God who sponsored the action-driven life of his prophet? Why does Allah stand so different from the God of the Bible and have stark similarities with Satan?
The Homosexual/ Bisexual Prophet
Surprised? Yes, it might surprise you when you come to know that Muhammad was also interested in men. Muhammad and sex are quite interlinked. Let us check an action from the Sunnah, the Authentic Hadith.
Narrated Usayd ibn Hudayr:
Abdur Rahman ibn AbuLayla, quoting Usayd ibn Hudayr, a man of the Ansar, said that while he was given to jesting and was talking to the people and making them laugh, the Prophet (ﷺ) poked him under the ribs with a stick. He said: Let me take retaliation. He said: Take retaliation. He said: You are wearing a shirt but I am not. The Prophet (ﷺ) then raised his shirt and the man embraced him and began to kiss his side. Then he said: This is what I wanted, Messenger of Allah!

Sunan Abi Dawud 5224
As usual, the translator tried to mellow down the effect by mistranslation. In reality, Muhammad started kissing the navel of the man. The actions of the prophet are so embarrassing that they have to corrupt the translation to cover it up.

Muhammad was attracted to good looking men – The Real Islamic Jibrail Revealed
Notice how Muhammad asks a young handsome dude to come closer to him. Finally, this dude is revealed as Jibrail who gives him all the so-called perverted revelation.
………………….(One day) we were sitting and the Messenger of Allah [SAW] was sitting in his spot when a man came along who was the most handsome and good-smelling of all people, and it was as if no dirt had ever touched his garments. He came near the edge of the rug and greeted him, saying: 'Peace be upon you, O Muhammad!' He returned the greeting, and he said: 'Shall I come closer, O Muhammad?' He came a little closer, and he kept telling him to come closer until he put his hands on the knees of the Messenger of Allah [SAW]………..That was Jibril, peace be upon you, who came down in the form of Dihyah Al-Kalbi.'"

Sunan an-Nasa'i 4991
Interestingly this same Hadith says that Dhiyah Al-Kalbi (a.k.a Jibreel) got converted to Islam in this incident. Islamic Jibrail was not a Muslim till he could have some fun with Muhammad.
The Islamic website islamweb.net says that Dhaiya Al-Kalbi enjoyed special privileges in the bedroom of Muhammad. He was given precedence over Aisha and Abu Bakr.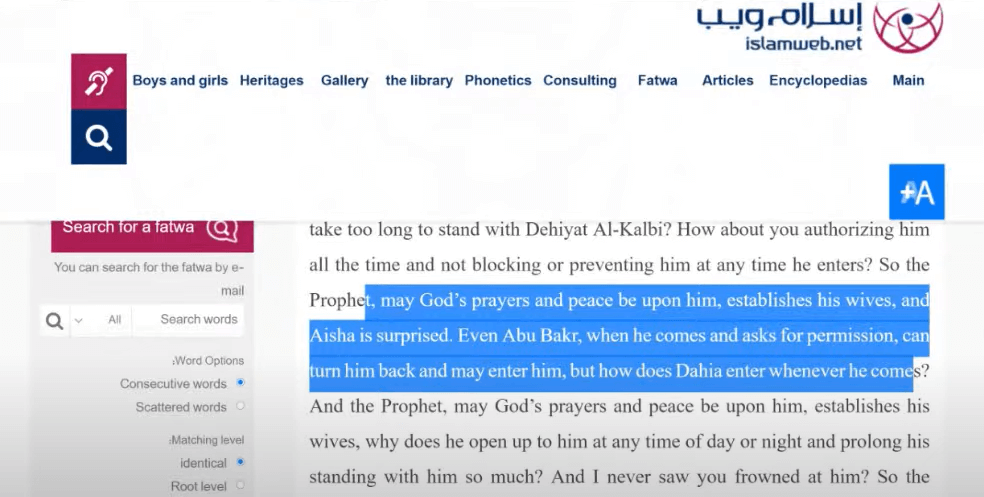 Some other weird perversions of Muhammad
It is the Islamic Prophet who initiates these kinds of talks Their historians have written it for us to ask questions. Notice the below actions and words of Muhammad.
It was narrated that 'Aishah said: "Usamah stumbled at the threshold of the door and cut his face. The Messenger of Allah said: 'Remove the harm (the blood) from him,' but I was repulsed by that. He started to suck the blood and remove it from his face, then he said: 'If Usamah were a girl, I would have adorned him and dressed him until I married him off."'

Sunan Ibn Majah 1976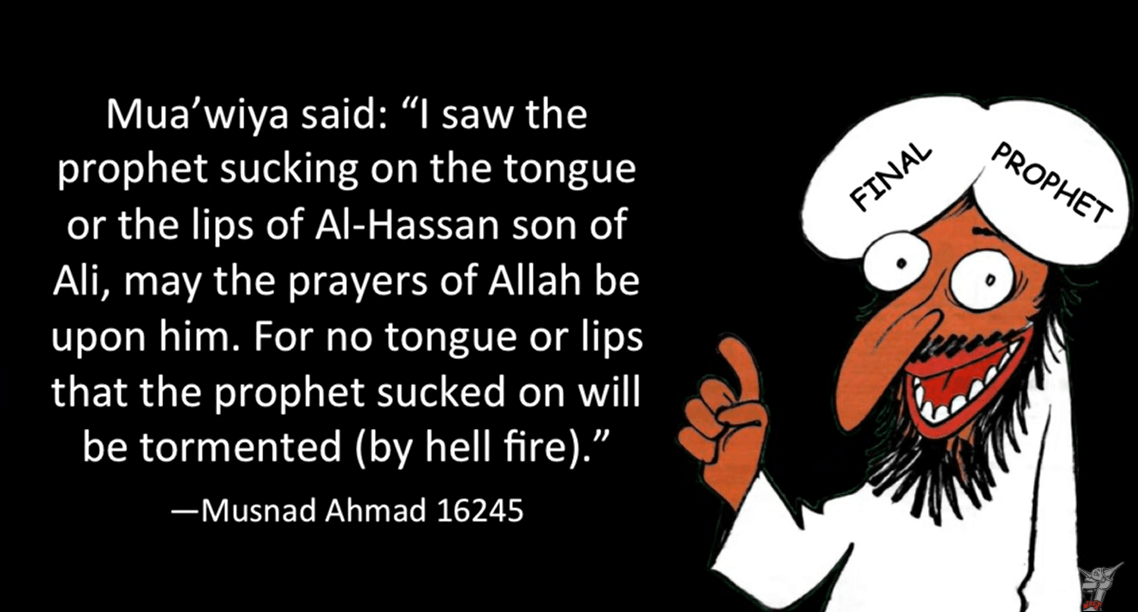 It is related that Abu Hurayra said, "I never sae al-Hasan without my eyes overflowing with tears. That is because the Prophet, may Allah bless him and grant him peace, went out one day and he found me in the mosque. He took my hand and I went along with him. He did not speak to me until we reached the market of Banu Qaynuqa'. He walked around it and looked. Then he left and I left with him until we reached the mosque. He sat down and wrapped himself in his garment.

Then he said, 'Where is the little one? Call the little one to me.' Hasan came running and jumped into his lap. Then he put his hand in his beard. Then the Prophet, may Allah bless him and grant him peace, opened his mouth and put his mouth in his mouth. Then he said, O Allah, I love him, so love him and the one who loves him!'"

Al-Adab Al-Mufrad 1183
Conclusion
Sex is an integral part of Islam. Be it Allah and Sex or Muhammad and Sex. The gift of sex has been perverted to a disproportionate level by the prophet of Islam. It needs to be known by all Muslims. More to come. Keep watching.
---
End of "The Pervert – Unique Bisexual Prophet of Islam 1"
---